Note: All music on this website is copyright and may not be used or reproduced in anyway without permission. Thank you for your cooperation.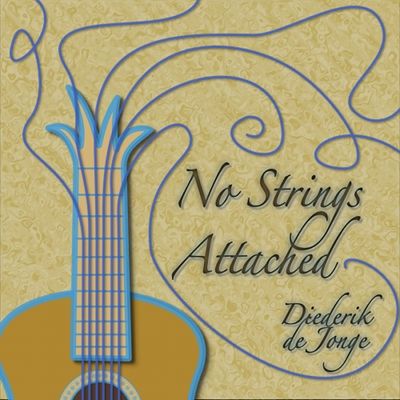 Original contemporary world guitar and assorted strings with influences of jazz, folk, Latin and country. 
This album is now available on at your favourite online music store such as iTunes, CDBaby, Amazon, Napster as well as a number of internet radio stations. Go to the links page for more links or click the CDBaby icon below. 
---
Listen:
To listen use the player below:
Album - No Strings Attached by Diederik de Jonge
---
Purchase: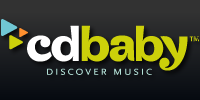 ---
Album Notes:
"No Strings Attached" contains twelve original tracks featuring the sounds of guitar and other stringed instruments. Influences in this album span several genres including jazz, folk, Latin and country in a fusion of sounds that will appeal to lovers of strings.
The idea behind this album was to create a collection of tracks primarily using sounds generated by mainly acoustic stringed instruments, from guitars to mandolins, zithers, santoors, guitarróns, orchestral strings and more.
The album opens with the track "Soda" inspired by the rich rhythmic and lyrical sounds of Cape Verde off the West Coast of Africa. Multiple guitars are layered on top of each other in complimentary patterns to create a full melodic sound with a gentle lilting rhythm.
In "Santiago" I have created a strong rhythm guitar based track with a distinctly South American flavour. The main melody is carried between an acoustic guitar and a Zither with the bass line doing it's own thing. This track also has a strong underlying beat making it more like a dance track.
I love a Bossa Nova and I just couldn't help creating my own for this album. "Affogato" is also my favourite style of coffee and what could be better than enjoying a nice coffee with a bit of Bossa on the side. This Bossa is in the acoustic guitar tradition popularised in the sixties by artists such as the incomparable Joao Gilberto.
The next track, "Magnolia", opens with a slightly syncopated interplay between the guitar and bass. It then develops into a combination of acoustic guitars with the exotic sound of a Persian Santoor creating additional colour in the lower ranges.
Like a scene from Kenneth Grahame's classic "Wind In The Willows", "A Stroll In The Country" evokes images of a jaunty stroll through the English countryside. This track features combinations of ukulele, mandolin and guitars and has the light buoyant feel of a day spent in fresh air and sunshine.
"Making Good" is more a folk/rock type of ballad. This feel-good track cruises along in an almost stately manner as a consort of guitars and mandolins rhythmically underpin the two lead acoustic guitars.
In a style reminiscent of Paco de Lucia, "Cilla" is a folk/flamenco piece, rolling along a melodic path with a combination of guitars and bass. This track carries a lot of forward momentum and you will soon find yourself tapping along in time with its 6/8 time signature.
Lazy afternoons spent dozing in a hammock come to mind when listening to "The Simple Life". This is an uncomplicated piece for two acoustic guitars one taking the main melody whilst the other plays a finger picked accompaniment.
For the track "Telegraph Lines", I had images, as a child on happy, long summer holidays, of being driven along a lonely country road with the sun in my eyes, the telegraph poles whizzing by with a regular but reassuring monotony. This track conjures up images of travel and grand landscapes. The sound is more outdoors and features some electric guitars to compliment the acoustic backing.
Grab your partner for a slow spin around the floor. "The Postman's Waltz" is a slow tempo waltz featuring Dobro-style slide guitar, acoustic guitar, mandolin and bass. To me, this track brings to mind feelings of life on the prairie, long hours in the saddle and a longing to return to one's sweetheart.
The track "Cempaka" derives its title from the highly fragrant, sweet smelling flower native to Southeast Asia. This track also features a Dobro acoustic guitar playing the lead with the "dancing" bass line provided by a guitarrón. The sweet sounds of this track will linger, like the fragrance, in your mind.
The closing track, "Into The Wild", was loosely inspired by the book/movie of the same name, which chronicles the amazing travels of Christopher McCandless across America and eventually into the wilds of Alaska. The lilting picked guitars and processed mandolin tracks underpin a melodic theme taken first by an acoustic guitar and later, complimented by strings. The track has a wonderful openness and an overall forward movement making you feel as if you are embarking on a long journey into adventure. Maybe, on to my next album……. (stay tuned !!)
Album Credits 
All tracks written and performed by Diederik de Jonge.
Created and recorded in Bali 2010/2011
Mastered by Juergen Eppinger
© 2011 Diederik de Jonge